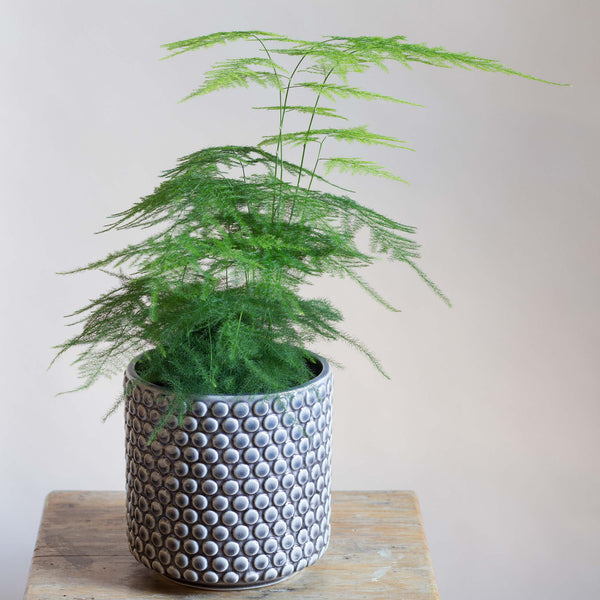 Asparagus setaceus
Asparagus Ferns are neither an Asparagus nor a Fern, they're actually a member of the Lily family and will, if very happy, produce tiny white flowers. But primarily they are grown for their lush green, wilful foliage and look great either hanging or sitting on a high shelf from which they can tumble elegantly. They are easy to look after house plants that will reward you with fast growth.
Asparagus Ferns don't take too kindly to being too warm and dry. If you have it anywhere near a radiator in Winter for example, you will find half of your plant turns yellow and drops all its fronds. So find a cooler, bright spot where it will receive indirect light.
Size:
Small D 5cm x 12cm h
Large D12cm pot x H35cm 
(Decorative pot not included)
If ordering for a gift you can include a message in the text box at checkout

Please select preferred delivery/collection date from the date picker

Available for delivery in and around Edinburgh, Monday to Friday. We cannot guarantee time slots.

Please get in touch before placing any orders for same day to check availability
Delivery prices
At checkout please select the correct delivery option according to postcode:
deliver to post codes EH1 - EH17: £8

deliver to post codes EH18 - EH30: £17 (for further afield please get in touch first)

collect from shop: Free 
Delivery terms
**Deliveries will be contactless until further notice. The driver will place the order at your door, knock, then stand back to a safe distance.**
Please ensure you provide a full delivery address, we cannot be held responsible for wrongly delivered items due to incorrect or incomplete addresses.
Please provide a preferred delivery date, we cannot guarantee a specific time slot. Deliveries are available Monday - Friday.
To ensure your order reaches the recipient safely we recommend checking they will be in on the selected delivery day. If the recipient is not in at the time of delivery we will leave the item in a safe place or with a neighbour, if this isn't possible the item will be returned to our shop for the recipient to collect. If you would like to rearrange delivery for another day following a failed delivery attempt you will be charged for the delivery fee again.