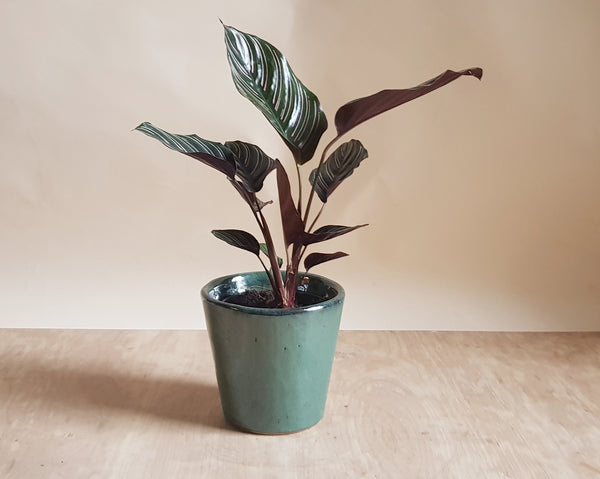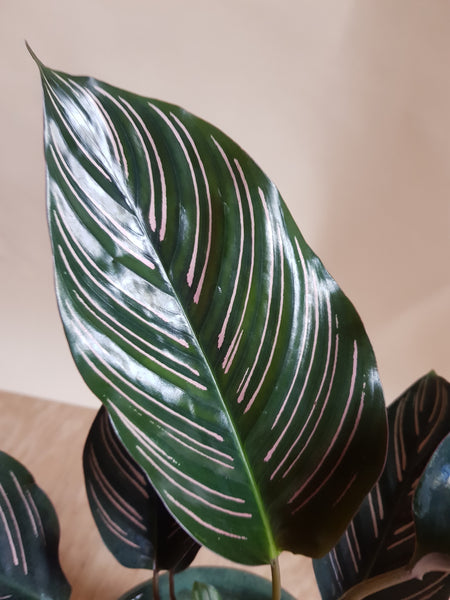 Calathea Sanderiana
Calathea Sanderiana is commonly known as the Pinstripe Calathea because of it's beautiful leaf markings.  The leaves have an extraordinary pink veined pattern running through them and deep red undersides.  A lover of a shady spot it's a great house plant to add a bit of a jungle feel to your home, a pretty easy going plant too!
They come from the damp tropical jungles of South America, so they like warm, humid environments. Water your plant little and often to ensure the soil doesn't dry out and feed regularly in Spring and Summer. They like high humidity so consider standing the pot on a tray filled with pebbles and water, which will increase the level of humidity around the plant.
A north facing window is the ideal spot for them, but if this isn't possible just make sure it's not sitting in direct sun as this will scorch the leaves and cause the patterning to fade. At the same time they don't want to be sitting in your shadiest corner either, so find a happy medium. In the Winter move to a brighter spot to maintain healthy growth but reduce feeding to about once a month.
You also want to find a spot where your plant will not get too cold as they're not big fans of draughts, but mind not to get it too close to a radiator!
 Size: H35cm x D12cm pot approx.
(Decorative pot not included)
If ordering for a gift you can include a message in the text box at checkout

Please select preferred delivery/date from the date picker 

Available for delivery in and around Edinburgh, Monday to Friday. We cannot guarantee time slots.

Please get in touch before placing any orders for same day to check availability
Delivery prices
At checkout please select the correct delivery option according to postcode:
deliver to post codes EH1 - EH17: £8

deliver to post codes EH18 - EH30: £17 (for further afield please get in touch first)

collect from shop: Free 
Delivery terms
**Deliveries will be contactless until further notice. The driver will place the order at your door, knock, then stand back to a safe distance.**
Please ensure you provide a full delivery address, we cannot be held responsible for wrongly delivered items due to incorrect or incomplete addresses.
Please provide a preferred delivery date, we cannot guarantee a specific time slot. Deliveries are available Monday - Friday.
To ensure your order reaches the recipient safely we recommend checking they will be in on the selected delivery day. If the recipient is not in at the time of delivery we will leave the item in a safe place or with a neighbour, if this isn't possible the item will be returned to our shop for the recipient to collect. If you would like to rearrange delivery for another day following a failed delivery attempt you will be charged for the delivery fee again.